Captain Harold Wanliss DSO

Captain Harold Boyd Wanliss DSO was born in Ballarat in 1891 as the elder child of John Newton Wanliss, solicitor and his wife Margaret, nee Boyd. He was Dux of Ballarat College (1908) and Dux of Hawkesbury Agricultural College (1912) before taking up 295 acres of land near Lorne, in Victoria's Otway Ranges.
Courtesy of Tom Wanliss




Three remarkable women - Marion Boyd Wanliss, Leslie Moira Henderson and Joan a'Beckett Lindsay at the Clyde School, Macedon in Victoria in 1914. Three young women, dressed in their school uniforms. From left to right they are Marion Boyd Wanliss, Leslie Moira Henderson and Joan a'Beckett Weigall, later Lady Lindsay. Marion Boyd Wanliss (1896-1984) was a medical practitioner, Leslie Moira Henderson (d. 1982) was an author and niece of Vida Goldstein (the first Australian woman to stand for parliament) and Joan a'Beckett Weigall (1896-1984) later married Sir Daryl Linsday and was an author of several titles including 'Picnic at Hanging Rock'. This photograph was found in Miss Henderson's papers after her death.
Courtesy State Library of Victoria




Dr. Marion Boyd Wanliss in later life. 'In the early 1950s, after presenting a particularly vehement paper at the Lyceum Club, Melbourne, concerning the indiscriminate slaughter of kangaroos, Marion formed the Native Fauna Conservation Society… The Society became large, prestigious and well-endowed. Dr Wanliss conducted the "Marion Wanliss Conservation Camps" for young people which were based at Glen Ewart in the township of Launching Place… Dame Kate Campbell recalls that she was castigated by Dr Wanliss for "defiling the bush" when she threw out of the window some hair from her comb, believing that it might assist the birds in their nest building!" (From The Medical Journal of Australia, September 29, 1984)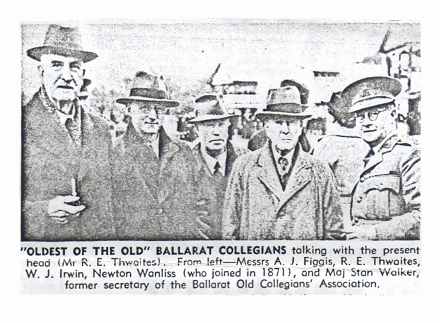 An elderly Newton Wanliss (second from right) when he attended the 80th anniversary of Ballarat College in 1944 (The Australasian, May 27, 1944). Newton began at Ballarat College in 1871. Apart from writing the History of the 14th Battalion, Newton had a keen interest in the American Civil War. He is credited by Douglas S. Freeman, author of R.E. Lee: A Biography (1934), with providing a reference for a 1930 article depicting the 'friendly fire' mortal wounding of Confederate General 'Stonewall' Jackson. In a letter to Australian Great War historian Dr C.E.W. Bean, he likened the 4th Brigade's charge at Bullecourt to General Pickett's charge at Gettysburg.




Lorne. The Wanliss farmhouse pre 1939. The woman in the photograph is thought to be Newton Wanliss's second wife. Courtesy of the Lorne Historical Society.




Above the Erskine Falls at Lorne.
The hazelnut orchard planted by Harold Wanliss in 1913 still bears fruit.